Published in the Society of Classical Poets Annual Journal 2014, Volume 2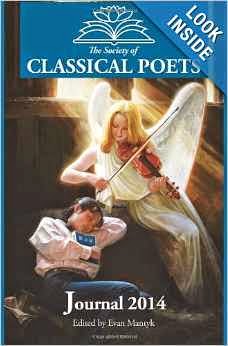 Earlier this year, I learned that my entries were selected for publication in the 2014 Annual Journal of the Society of Classical Poets, Volume 2.
In this latest issue, the journal features the works of the top fifteen poets judged in the last competition held by the society. So this is an honor for me, having been published in the previous issue of the journal as well. I recently got my copy and was very impressed with the quality of all the poetic works. I feel honored to be counted among those who were recognized.
Get your copy on Amazon, and please support the society for the good work it does in reviving and promoting classical poetry. My thanks and admiration go to Evan Mantyk, President of the society, for his efforts to this end.
-KM